Tabletop Christmas Trees
Tabletop Christmas Tree Collectible Centerpiece Figurines
Tabletop Christmas trees make lovely Christmas decorations, and you can also place them around the office at work to add to the festivity.
If you're having a dinner party or family gathering, consider using one of these tabletop Christmas trees as your centerpiece. Add some garland, and maybe a few ball ornaments, and you'll have a lovely holiday table that will be quite impressive.
These collectible Christmas tree figurines also make terrific gifts for family and friends. Collect them all and display them in various rooms throughout your home, so you can enjoy a Christmas tree in every room, every day.
You'll find beautiful selections of collectible tabletop Christmas trees here that will dress up your home for the holidays in festive beauty and delightful cheer.
Bradford Exchange Online
Collectible Tabletop Christmas Tree Centerpieces
The Bradford Exchange Online is the e-commerce partner of The Bradford Exchange. Since the early 1970s, The Bradford Exchange has been recognized as the premier source for a vast array of unique limited-edition collectibles and fine gifts that offer an exceptionally high level of artistry, innovation and enduring value.
Below you will find an awesome collection of centerpiece tabletop trees, which are an exceptional value for all the detail and design artistry. These lovely pieces are collectible items and for that purpose.
For more information and pricing, simply click on the pics below.
On Amazon
Disney Tabletop Christmas Tree: The Wonderful World Of Disney
Wonderful Tabletop Disney Christmas Tree Decor Spins Holiday Magic with Mickey, Minnie and Friends! Lights, Music, Motion! – From Mickey and Minnie to Pooh and Tigger, Disney's beloved characters have given us countless gifts over the years – moments of love, laughter and imagination. Now this spectacular tabletop Disney Christmas decor brings together Mickey and Minnie, Donald Duck, Snow White and more to deliver the joys of the holidays in your home. Standing 16″ high and decorated with over 50 hand-painted Disney character figures, this animated tabletop Christmas decoration celebrates The Wonderful World of Disney and is available from Hawthorne Village.
With 4 levels of rotating movement on this breathtaking Disney Christmas decor, the Disney Express seems to "climb" ever higher up the tree, brilliantly lit by 20 LED lights. At the very top, Mickey's at the reins of a Pluto-and-reindeer drawn sleigh that rotates around Cinderella's magic castle. A medley of Christmas carols makes the festivities complete. Strong demand is expected for this magnificent Disney collectible.
Disney Tabletop Christmas Tree: The Wonderful World Of Disney by The Bradford ExchangeView Now
Wonderland Express Animated Tabletop Christmas Tree With Train
Thomas Kinkade Wonderland Express Animated Tabletop Christmas Tree With Train by Hawthorne VillageView Now
As Santa and his reindeer joyously fly into the Christmas night, the Wonderland Express slowly chugs its way round and round the peaceful little village nestled amongst snow-kissed evergreen boughs. Now, you can capture the joy of this wondrous night in your home with an exclusive Collectibles Market First Thomas Kinkade musical animated tabletop Christmas tree with moving trains. It showcases four levels of rotating movement – including Santa and his sleigh – you'll watch as the train "climbs" ever higher up the tree and notice 12 brilliantly illuminated buildings and over 2 dozen handcrafted figures.
Beautiful Tabletop Christmas Trees on Amazon
Share these with family and friends, and dress up your home or office in delightful beauty with these collectible tabletop Christmas trees. These add such charm to your holiday decorations, and you'll enjoy them year after year!
Disney Tabletop Christmas Tree: The Wonderful World Of Disney by The Bradford ExchangeView Now Thomas KinkadeView Now Thomas Kinkade Wonderland Express Animated Tabletop Christmas Tree With Train by Hawthorne VillageView Now Thomas Kinkade Illuminated Nativity Tabletop Tree: Glory To The Newborn King by Hawthorne VillageView Now Thomas Kinkade The Night Before Christmas Tabletop Centerpiece by The Bradford ExchangeView Now A Merry Little Christmas Tabletop Tree With Sculpted Crimson Cardinals, Ornaments, Lights And Music – By The Bradford ExchangeView Now TII Collections LED Light 10View Now Thomas Kinkade Musical Christmas Tabletop Tree With Crystal Base: Lights Up by The Bradford ExchangeView Now Treeform Tabletop – Recycled Cardboard Christmas Tree in Natural Kraft, 18View Now Wooden Tabletop Christmas Tree with Miniature Christmas OrnamentsView Now Tabletop Wire Christmas Tree – 20 inchesView Now Iridescent Glitter Swirl Christmas Table Top DecorView Now
&
On Wayfair
Wayfair has some cute tabletop Christmas trees you'll enjoy along with your other Christmas decorations, too!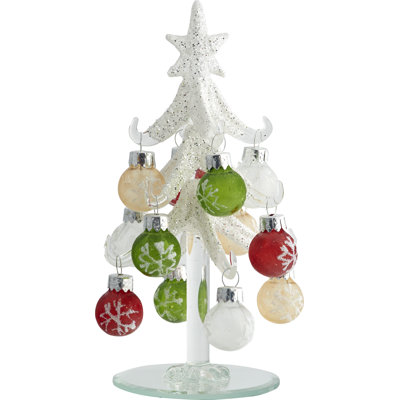 Frosted Christmas Tree with 12 Ornaments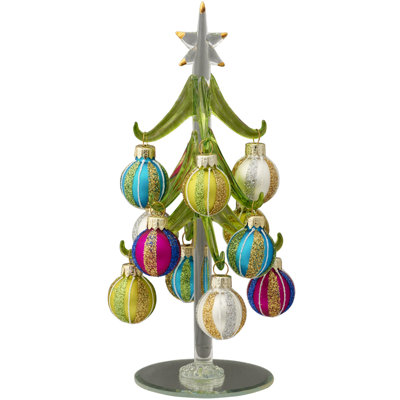 Glass Christmas Tree with 12 Ornaments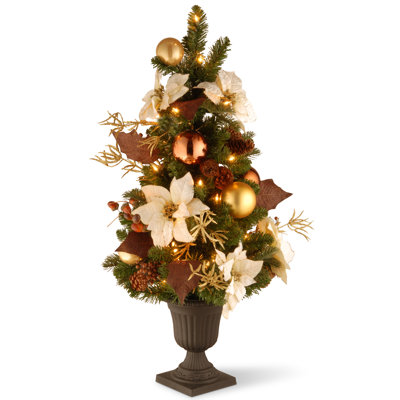 3′ Green Pine Artificial Christmas Tree
3′ Green Pine Artificial Christmas Tree
&
Check out More of This Author's Work
Click on the Pic Below
See List of Other Websites by This Author Click Here
53116
Check Out Other Related Posts On Webnuggetz