September Birthstone Lapis Lazuli Pendant Necklaces
Lapis lazuli – Gorgeous Pendant Necklaces for September
Although we usually think about giving a birthstone ring, gorgeous necklaces made out of September birthstone lapis lazuli are one of the best ways to celebrate a September birthday! Lapis lazuli is one of the two birthstones of September, along with sapphire. Although Lapis lazuli is not considered a precious stone like sapphire is, it is a wondrous jewel nonetheless.
Its deep, celestial blue remains the symbol of royalty and honor, gods and power, spirit and vision. It is a universal symbol of wisdom and truth. This is truly the stone of kings and queens.
Lapis Lazuli was referenced in the Old Testament as "sapphire" but actual sapphire was unknown in the Holy Land. It probably is is in the original breastplate of the High Priest as the fifth stone.
Lapis Lazuli was infamous in Egypt, obtained from the oldest mines in the world, that were worked from around 4000 B.C. and still in use today. If you visited Egypt today or in the past you would find it in the sarcophagus of King Tutankhamen which was richly inlaid with Lapis, as were other burial ornaments of Egyptian kings and queens. You might find lapis in scarabs, pendants and other jewelry, or ground into powder for dyes, eye shadow and medicine.
Lapis lazuli is truly a stone of royalty, and for developing your inner Queen or King. Crystal healers treasure it for opening the Third Eye and helping you move towards Truth and Enlightenment.
If you are born in September, you are truly lucky to have two beautiful powerful stones as your birthstones. Necklaces are a wonderful way to display the beauty of this stone and here are some of the most gorgeous ones I have found.
Learn to Use your Royal Blue Lapis Lazuli for Creation
Very interesting, here is crystal healer Caroline Jalango telling how she uses the energy of this powerful stone to bring good to her life.
My Favorite Lapis Lazuli Pendant Necklace
Connect Free Will Genuine Lapis Lazuli Navajo Dawn Rising NecklaceSee Details
The Dawning of a New Day necklaces are a traditional Navajo design, which remind us of the beauty and life that comes with each new day. The necklaces are hand crafted by a Navajo family in Arizona, who are now in their 3rd generation of making this style of jewelry.
Lapis is widely found throughout the world. Lapis Lazuli was worn by the Hebrews to adorn their ceremonial robes. It was known in ancient Egyptian times. It provides relief to painful emotions that have been stored away, it supports courage in endeavors and it helps us to advance towards a universal wisdom. Lapis is It is said to have 'existed before time itself!'
This is a particularly stunning lapis lazuli necklace that is handcrafted by a Navajo family that has been doing this for three generations. The necklace symbolizes the beauty and hope of each new day. The necklace is 18 inches long and the two strands of these pieces bring the sun and moon together, day and night, male and female, showing the two contrasting but also coming together as one in the universe. 6-7 genuine Lapis Lazuli 14-26mm paddle shaped beads along with additional 8-4mm round Lapis Lazuli beads reflect the dawn with the stone's innate ability to provide and expand awareness, objectivity, clarity and mental endurance.
Beautifully strung shiny silver plated balls, silver-plated rose beads, and 10×1.5mm silver plated tube beads adorn the strands of the necklace and range in size from 2 to 18mm in length and 2 to 8mm in diameter.The shiny and secure silver-plated screw clasp is made up of two cylindrical tubes, which screw tightly into one another for ultimate safety. This is made of high quality deep blue Lapis Lazuli stone.
Lapis Lazuli Necklaces or Pendants are the Perfect September Birthstone Gift
Elegant Vintage Lapis Lazuli Heart Round Locket Necklace

A necklace or pendant of lapis lazuli can be the perfect birthstone gift for September, more practical and just as beautiful as a birthstone ring. I thought this beautiful heart locket is perfect to show your love any day of the year, not just September.
The Allure of Lapis Lazuli
Lapis Lazuli Has a Fascinating History – And it is Gained with Great Difficulty
Lapis miners toil away for our beautiful jewelry in Afghanistan. I found this video fascinating, and it made me feel more respect for this beautiful jewelry.
The lapis mines are desolate, hard places to work in a challenging environment.
Just Perfect Lapis Lazuli Sterling Silver Pendant
This gorgeous lapis lazuli pendant set in sterling silver is stunning. The teardrop shape is very flattering to almost everyone. Amethyst is also in this necklace.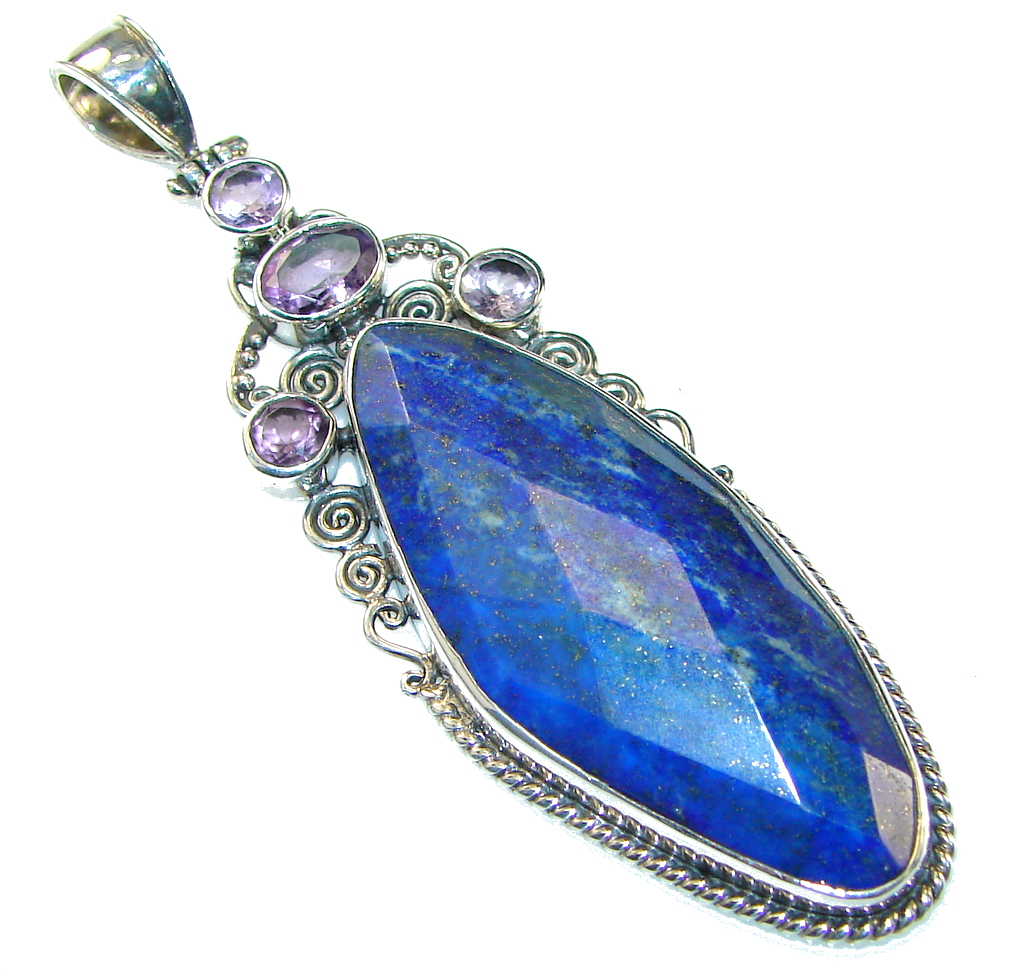 Just Perfect Lapis Lazuli Sterling Silver Pendant

&
Lapis is an Ancient Word
Lapis is Latin for stone.
Gorgeous Blue Lapis Lazuli September Birthstone Necklaces
Here are six of the most beautiful lapis lazuli necklaces I have found. All are unique, and all show the beautiful mystery and the amazing blue color of this ancient gem. The first necklace is a cushion cut. The cushion cut is combines a square cut with rounded corners, much like a pillow. This necklace is lined with lovely white topaz. The second necklace 'Tribal Medallion' has a beautiful mystery. It is handmade by Bhavesh and it is a fair trade product made in cooperation with National Geography. The "Cute Little Lapis Lazuli Pendant" is gorgeous – plus it is made in the USA! I love buying jewelry from Silver Dragon because all their sterling silver jewelry is made from reclaimed silver that helps the Earth, and all their stones are authentic. These came from the Tucson Gem and Mineral Show. The other necklaces all offer their own charm.
Cushion Cut Lapis Lazuli and White Topaz Pendant on Gold Plated Sterling Silver Chain Necklace, 18
Lapis lazuli pendant necklace, 'Tribal Medallion'
An Cute Little Lapis Lazuli Pendant When You Need Just a Little Bit of Color Made in America
Fashionable Lapis Lazuli Chip Necklace 17.5 Inch
Genuine Lapis Lazuli 925 Silver Overlay Handmade Fashion Necklace Jewelry
& 
There are Many Beautiful Necklaces and Pendants Made of Lapis Lazuli
I hope now you see that there are many beautiful pendants and necklaces made of from lapis lazuli.
Lapis Lazuli is mysterious, gorgeous – but most of all just beautiful.
Check Out Other Related Posts On Webnuggetz