Rustic Bedding
Rustic Bedding & Bedding Sets
Rustic bedding is charming and beautiful. Use it in a lodge, a cabin, or your bedrooms at home. Here you will find a lovely assortment of rustic bedding sets and accent pillows that will make your bedroom a dream come true.
Rustic bedding often includes neutral colors such as brown, tan, green, taupe, etc., however you might occasionally find some with pops of color such as red and blue. It's all a matter of design choices and color preferences.
Rustic design typically includes a key feature of nature and natural palettes. Think wilderness scenes, hunting, plaid designs, etc. It goes well with country style decor, rustic decor, and more. You might also find touches of suede, leather, and faux fur in rustic design.
There's a lot to be said about this stunning rustic bedding. It will add charm and a warm and ambiance to any bedroom in your home.
Add other rustic details throughout your room to complete the themed look, and you'll have an amazing bedroom you'll enjoy.
Rustic Bedding on Amazon
HiEnd Accents Lodge 5 Piece Ashbury Bedding Set, Plaid, Tan
HiEnd Accents Lodge 5 Piece AshburyView Now
The Ashbury collection features a solid woven texture that is complemented with a handsome windowpane plaid and stripe in shades of tan, black, and gold. The accent pillows include button tufted details with contrasting cording. Ashbury is a handsome collection that is casual and versatile. Create your own rustic lodge or lake retreat in your home.
HiEnd Accents Caldwell Comforter Set
HiEnd Accents Caldwell Comforter SetView Now
The Caldwell Bedding Ensemble features neutral cowhide printed velvet and rich faux tooled leather. Faux leather fringe finishes the tasteful western design while stately conchos finish the look. This ensemble is part of the larger Caldwell ensemble which provides a variety of coordinating accessories. The full comforter set includes: Comforter (110×96″), Bed Skirt (78×80+16″), Two Standard Shams (21×27″), and Neck Roll (9×21″). Dry clean only.
Available in 4 sizes!
Cerrillos Hills Turquoise Bed Set
Cerrillos Hills Turquoise Bed Set –View Now
Create distinct southwestern style with the vibrant Cerrillos Hills Turquoise Queen Bed Set, woven in shades of turquoise, red, coral, oatmeal and brown and trimmed with microsuede, embroidered silver rivets, genuine turquoise beads and silver conchos. Bed set includes 88″W x 94″L comforter, 60″W x 80″L x 15″H bedskirt, two 20″W x 27″L standard shams and 9″W x 20″L neckroll. Additional pillows sold separately. Dry clean.
Rustic Bedding Selections
Rustic bedding adds so much charm to any bedroom. It's simply lovely to look at, and when you add other rustic accessories around it, you'll have a theme that is amazingly beautiful!
 Beckham King Quilt 95×105View Now Woolrich Lumberjack Down Alt Mini Comforter Set, Full/Queen, MulticolorView Now Woolrich Williamsport Comforter Set, Queen, MulticolorView Now HiEnd Accents 5 Piece Calhoun Bedding Set, Super King, Striped, RedView Now Moose Lodge Queen Comforter SetView Now 20 Lakes Woodland Hunter Camo Comforter, Sheet, & Pillowcase Set (Queen, Forest)View Now HiEnd Accents Hunter's Sheet Set, Full, OrangeView Now Blue Ridge Trading Rocky Mountain Elk Complete Bed Set, Queen, Green/BrownView Now Tea Cabin Queen QuiltView Now Western Rustic Country Praying Cowboy Comforter Cross Bedding Set 5pc QueenView Now Croscill Caribou Comforter Set, Queen, MulticolorView Now 7 Pieces WESTERN Lodge Oversize Comforter Set Camel Brown Lone Star Micro Suede KingView Now
Western Rustic Chocolate Barbwire Bedding Set 7pc
Western Rustic Chocolate Barbwire Bedding SetView Now
This Ranch Style Western Bedding Set features bold and finely detailed Ranch Barbwire embroidered around the sides. Luxurious and extremely soft dark chocolate faux-suede top side contrasted with a tan mocha distressed faux leather bed skirt. The pillow sham(s) are also in the chocolate mocha distressed faux leather trimmed with dark tan faux suede. Square cushion pillow(s) with western buckle accents and neckroll pillow complete this set. *Super sized, more comforter, these are larger than normal sized comforters, better fit for pillow top mattresses.
Henley 3pc Queen Set
Henley 3pc Queen SetView Now
A preppy yet traditional look, Henley combines large patchwork squares in khaki, navy and tan. The quilt set includes one queen quilt measuring 90×90″ and two 21×37″ shams. All pieces are 100% cotton and quilted with stitch in the ditch and echo quilting.
Full/Queen Northwoods Lodge Quilt Set
Full/Queen Northwoods Lodge Quilt SetView Now
Plow & Hearth Exclusive – Bring the wild wonder of the woodland to your bedroom with our Northwoods Quilt Set. The design features favorite symbols of the untamed wilderness: deer, bear, evergreens, acorns, canoes and more in cabin-inspired shades of tan, burgundy, green and brown. Vermicelli stitching for great style and texture. Sets include quilt and two standard shams. Machine wash. Imported. Size: 88″ x 90″.
More Rustic Bedding
Evergreen Moose Luxury Comforter Set
Evergreen Moose Luxury Comforter SetView Now
The Evergreen Moose Luxury Bedding Collection will have you dreaming of the great outdoors in the comfort and style. The colorful design features repeating moose silhouettes, tall pines, and alternating leaf designs for a rustic look that is perfect for your home, cabin, or lodge. Rusty red, sage, and evergreen shades provide a beautiful contrast that will match a variety of outdoor themes.
Adirondack Comforter Sets
Adirondack Comforter SetsView Now
Adirondack Bedding features bears and moose on a background of warm browns and richly colored red that is accented by geometric patterns in this wonderful, rustic bedroom set.
Beautiful Rustic Bedding Sets

Here are some more gorgeous rustic bedding sets that you'll be proud to use in any bedroom of your home. These luxurious sets are durable and fabulous!
 Browning Buckmark Comforter SetsView Now Big Sky Country Comforter SetsView Now Gone Fishing Comforter SetsView Now Fairfield Lodge Coverlet SetsView Now Grand Teton Plaid Comforter SetsView Now Autumn Leaf Duvet CoversView Now
Rustic Bedding on Wayfair
Moose Bedding Set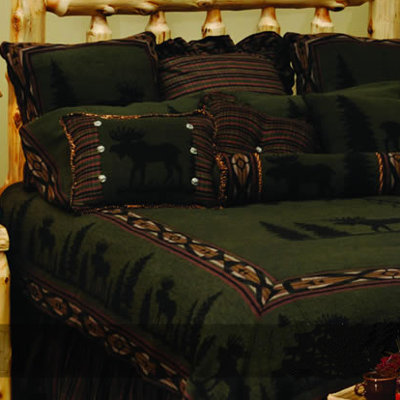 Moose Bedding SetWayfair
Handcrafted by skilled sewers
Made in the USA
Set includes: Bed cover, 2 shams and bed skirt
Moose I collection
30 Day warranty
Product Details
Pattern: Wildlife
Material: Acrylic; Polyester; Wool
Dust Ruffle/Bed Skirt Included: Yes
Gender: Gender Neutral
Cleaning Method: Dry clean only
Whitetail Lodge 3 Piece Quilt Set
Whitetail Lodge 3 Piece Quilt SetWayfair
The Whitetail Lodge quilt set has the outdoorsman in your life covered. Big game moose, white-tailed deer, bear, wolf, elk and animal tracks make this bedding set ideal for your cabin or back woods lodge. Perfect for the hunter and sportsman. Machine quilted for durability. Set includes quilt and two standard pillow shams. 100% Cotton face with polyester back and fill.
Rustic Bedding Sets on Wayfair
Discover more beautiful rustic bedding on Wayfair. These bedding sets are ideal for home, the lodge, or your cabin in the woods. You'll enjoy these lovely designs!
The Woods Bedding CollectionWayfair Northern Exposure Bedding CollectionWayfair Colorado Cabin Quilt CollectionWayfair Lodge 2 Piece Comforter SetWayfair Boone 7 Piece Comforter SetWayfair Grand Teton Plaid Comforter CollectionWayfair
Rustic Throw Pillows & Pillow Covers
Selection of Rustic Pillows & Pillow Covers
Accent pillows add texture, interest, and color to any room of your home, and these rustic toss pillows and covers will add beauty to your rustic bedroom!
 MWW Manual Indoor/Outdoor Throw Pillow, 18View Now Pillow Perfect 528809 Lodge Throw Pillow, 18-Inch, RedstoneView Now Pillow Perfect 528816 Lodge Throw Pillow, 18-Inch, EvergreenView Now Tallmadge Rifle Pillow CoverView Now Tallmadge Duck in Flight Pillow CoverView Now Decors Square Throw Pillow Case Cushion Cover Rustic DeerView Now Campfire Tonight At Dusk – Cabin Lake Country Throw PillowView Now Decors Rustic Gray Sparkle Pillow Case Cushion Cover Home Sofa Decorative SquaresView Now Create For-Life Cotton Linen Decorative Pillowcase Throw Pillow Cushion Cover SquareView Now HiEnd Accents Wilderness Ridge Scalloped PillowView Now Patriotic PatchView Now Welcome To Our Neck Of The Woods – Cabin Canvas Throw PillowView Now Manual Bear Lodge Throw Pillow Welcome to Our CabinView Now HiEnd Accents Fringed Bear Accent PillowView Now Together is the Best Place to Be – French Flea Market Burlap Accent Throw PillowView Now
Find More From This Author
Click on the Pic Below
See List of Other Websites by This Author Click Here
Check Out Other Related Posts On Webnuggetz