Make a Recipe Book with Grandma's Recipes
Grandma is the best cook over isnt she? So why not save all her priced recipes so you could try them on and pass down the recipes for generations to enjoy. Take a look at these recipe book binders that are dedicated to those special recipes by Grandma.
Grandma's Recipes Can Make a Family Cookbook
There are many reasons you would want to keep all Grandma's recipes organized. Firstly, you may not live close enough to her and would love to try her special dish when you miss her or just because you feel like it. You can also compile these recipes and create a family cookbook for generations to enjoy. Now grandma's recipes can live long even after her time.
Grandma would certainly be humbled and proud that someone appreciates her cooking and is compiling her recipes. This would be a great tribute to her and all that she has done for you and your family all these years. Make Grandma proud with her own recipe book.
Personalize Grandma's Recipe Book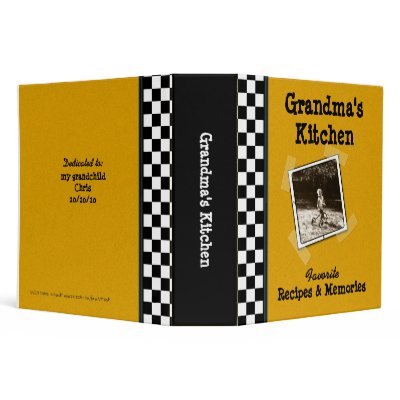 You can also compile Grandma's recipes in a personalized recipe binder. For instance on the binder above, simply switch the picture with one of your grandma's picture, or one with all the grand kids. She would certainly love the personal touch and cherish this binder with all her recipes and more.
Recipe Books- A Great Gift for Grandma
You need not just keep these binders to keep Grandma's recipes. You could gift these recipe binders to Grandma and have her organize her recipes in a lovely looking organizer. This would help her maintain her recipes in style. And each time she gets it out, you can see a smile in her face as she sees this lovely gesture that you have shown her.
Avery Binders Technical Information:
Avery custom binders make it easy for you to create customized binders with your own photo quality designs for work or home.
- Full-color, photo-quality printing
- Completely customizable
- Binders starting at $18.95
- Three ring sizes, 1" 1.5" and 2"
- 100% satisfaction guaranteed
- Made in the USA
Create Custom Avery Binders
Easily create quality recipe books, photo albums, binders for meetings, events, or presentations. Binders come in 1", 1.5" or 2" sizes. Avery 3-Ring binders include full-bleed, photo-quality printing on the front, back and spine, and 4 pockets. The Avery Signature 1.5" Binder comes in two different ring types.
More Recipe Books For All
Here are more recipe binders for everyone to maintain their own recipe clippings, ideas and more in style. Organize today with a recipe binder of your own.
Related posts:
Did You Miss Something? Go Back and Read Again!