Christmas Table Centerpieces With Candles
Start the Holiday season with a very special decoration
Celebrations start with a party and Christmas party has its own place in the holiday season. For these parties we decorate the outdoor and indoor along with each and every area in the house. Christmas table centerpieces with candles stand as a special attraction to the party. The table arrangement, table setting and the other decorations give a very special look to the things we place on the table. So be careful in choosing a proper color combination of the party room, table and other decorations that you may place to beautify the atmosphere of the party.
Elegant Holiday Table Centerpieces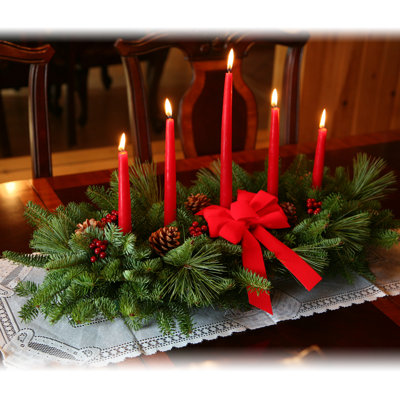 Classic 5 Candle CenterpieceCheck Price
This 5 candles Xmas table centerpiece will attract the eyes of family and friends who are present at the party. Its made in USA with fresh balsam and real pine cones. Faux holly berries and a hand tied velvet bow make it even more traditional.
Winter Elegance Pillar Candle CenterpieceCheck Price
If you like to be a bit sophisticated then you can use some cool shades of colors leaving the traditional colors like red and green. I like this simple single pillar candle centerpiece with a large white bow and frosted pine cones. Perfect for a round table.
Poinsettia and Berry Triple CandelabrumCheck Price
Three red candleholders are surrounded by shiny red berries, poinsetta blooms, and green pine needles. Measures about 9″ H x 30″ W x 16″ D. Perfect for home or office. On table or mantlepiece.
Christmas Floral Centerpieces
Another way to decorate a perfect winter / dinner table is to use a floral centerpiece with candles. You may use colors which are traditional or ones which attract. Choosing a contrast tablecloth adds a special beauty to the table. Adding some jingle bells and sparkly crystal balls to your Christmas flower centerpieces will give that special touch to your Holiday decor.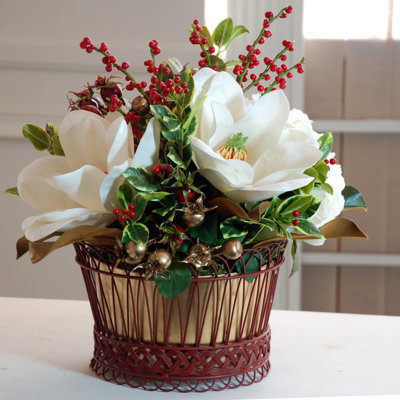 Holiday Classic Magnolia Hydrangeas and Rose Blossoms in Wire BasketCheck Price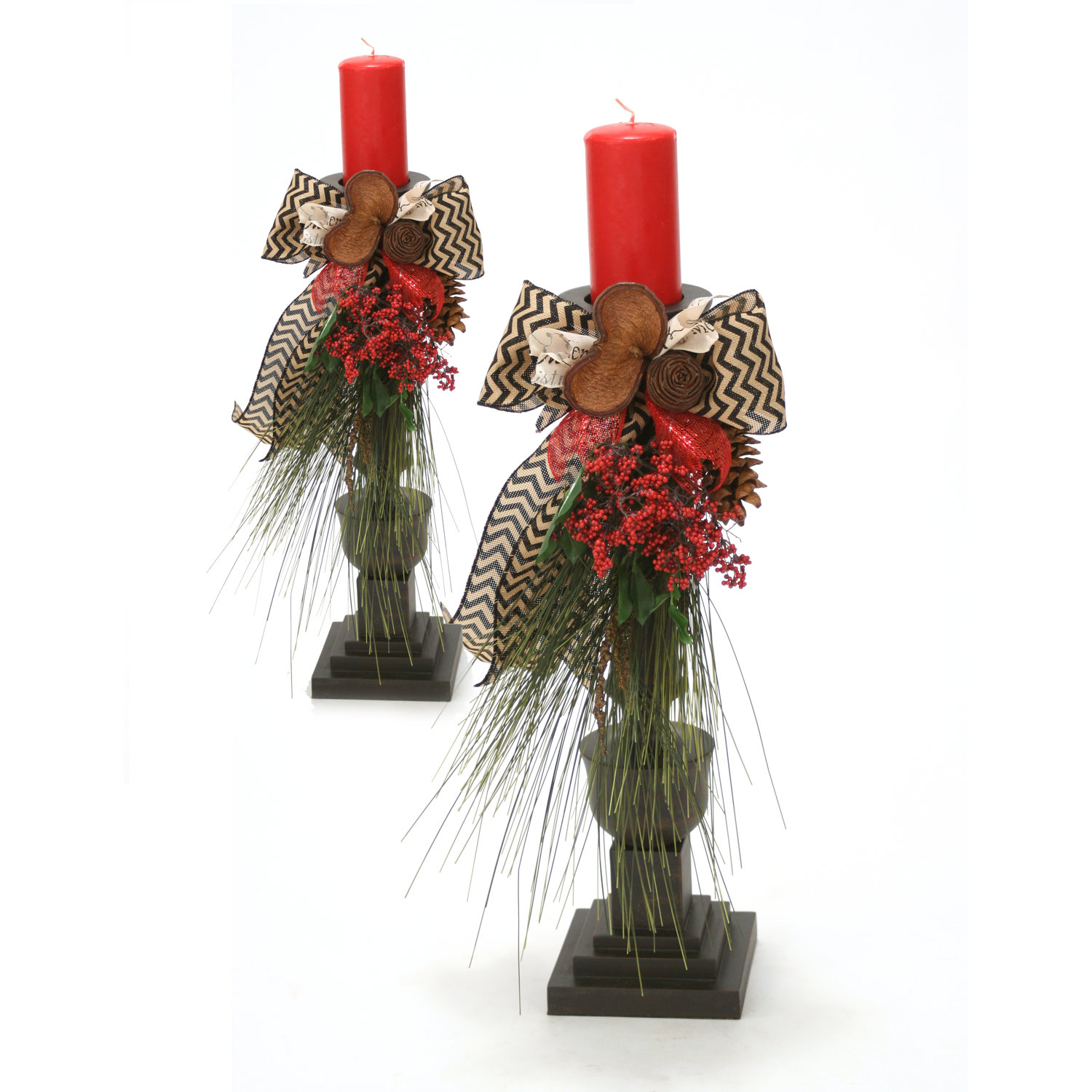 Woodland Treasure Dressed Wooden CandlesticksCheck Price
Lush Reds, Pine Sprigs and Berries with Red CandelabrumCheck Price
Holiday Table Decoration
Decorating for Christmas happens to be very curious task for both kids and elders. Before you start with the holiday table decorations see that you are completely prepared.
Here are a few suggestions:
– First list all the things you need to buy and later you can get them and arrange in a proper order
– Also choose the contrast colors to arrange the table so that everything you place on it will show up and create a very good visual effect
– But see that as it is a party table and all your cutlery, napkin and other things are set with it properly. This will create a good feel at the party along with the contemporary decoration
– Place a neatly designed wreath or any other kind of decorating item that holds the candles on the center of the table so that it will be a piece of classic collection
– A number of Holiday party centerpieces are available in the market which can be placed on the table which adds a very pretty feel to the table
– Few hand tied bows, floral foam and colored candles will add a much enhanced view to all the things that are placed on the party table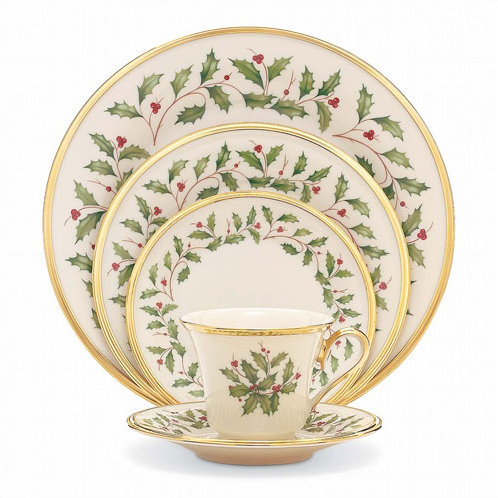 Lenox Holiday Dinerware Collection With Holly & Berry MotifCheck Price
Christmas Ribbons Fabric Tablecloth, 60-Inch-by-120 InchCheck Price
Set of 2 Gold Guardian Nativity Angels Candle HolderCheck Price
This section is empty.
Check Out Other Related Posts On Webnuggetz